Restoration Services for Retail Stores in Durango, Farmington, Cortez, and Pagosa Springs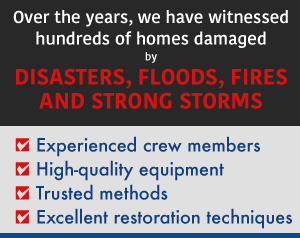 Get help NOW!
---
As someone who owns and manages a retail store, you know how hectic your work schedule can get. Part of your regular duties is to check in with your employees and customers, as well as keep an eye on your inventory.
Though these tasks seem tough, balancing these responsibilities keeps the business going. However, even if you've been working in the industry for many years, there are some scenarios you just can't control.
Take fire or water disasters for instance. They can occur without any warning and devastate your entire property in a blink of an eye. Handling perils like these are out of your expertise, but you need to act fast in order to save your establishment. For your business to recover properly, you need to call in your local restoration team for help.
You Can Rely on Best Cleaning & Disaster Restoration Services to Help You Anytime
That's why, if your retail store in Durango, Farmington, Cortez, or Pagosa Springs is struck by a catastrophe, you should contact Best Cleaning & Disaster Restoration Services pronto. Our company has the experience, skill, and necessary equipment to deal with the aftermath fast.
All of our technicians are fully licensed and certified to handle all kinds of disasters, whether they're made by natural or accidental causes.
As such, we provide a variety of restoration services. Depending on what kind of crisis your retail establishment has encountered, we'll do one of the following:
When you need fast, responsive, and reliable restorations, just contact us at 970-235-9151. Our attentive staff will be ready to assist you and send our emergency response team to your location ASAP. You can count on us anytime as our emergency services are available 24/7.