Tornado Damage Restoration in Four Corners Region
Tornados often leave behind fatalities and injuries, and they wreak havoc on homes, businesses and other property. These disasters make for a difficult recovery, emotionally and financially. A dependable, empathetic restoration company is a vital part of being able to move forward, and Best Cleaning & Disaster Restoration Services is a reliable solution for tornado damage restoration in the Four Corners Region.
Best Cleaning and Disaster Restoration Services provides superior restoration services, especially during emergency situations after sudden disasters or other catastrophic occurences. If you, your family or business are suddenly in harm's way from tornado damage or other damage-related distress, Best CDRS is your superior solution. For assistance in Durango, Pagosa Springs, Cortez, Farmington or anywhere in our Four Corners Region service area, call 970-235-9151.
Tornado Precautions in 4 Corners Region
Monitor weather forecasts or conditions on TV or radio broadcasts/cable.
Avoid windows.
Retreat to the lowest, smallest room.
Find secure place under something sturdy or in a hallway.
Layer yourself under blankets, pillows and coats for protection from debris.
If you smell gas or suspect a leak, turn off the main gas valve and leave the home.
Have flashlights for illumination, and avoid candles or flame sources.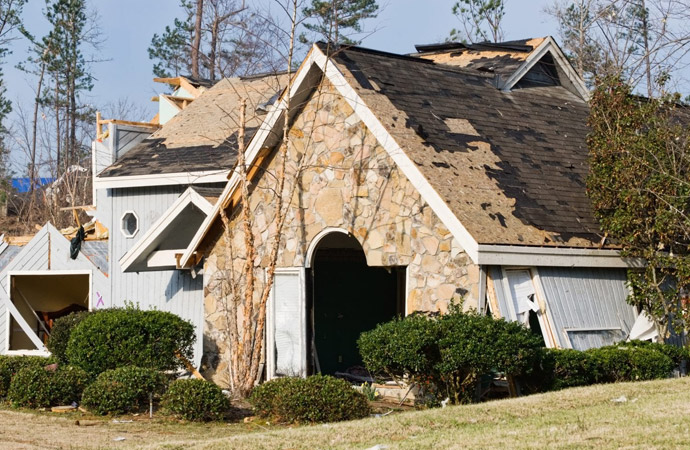 Call Best For Tornado Damage in Durango, Cortez & Farmington
At Best Cleaning & Disaster Restoration Services, we have been repairing tornado damage periodically the past 25 years. We understand the trauma and stress tornado or storm damage can cause. Our professional technicians have the equipment and expertise for superior repair or replacement for tornado damage. Call 970-235-9151 or visit our contact page to request an appointment. We also provide various water damage restoration services, professional window cleaning and maintenance, as well as mold remediation and biohazard cleanup.