Improved Indoor Air Quality After a Fire in Durango
Fires release harmful smoke and soot particles into the air, leading to respiratory issues and lingering odors. These issues also lead to poor indoor air quality. When you are ready to experience improved indoor air quality after a fire, you will need help from our fire damage restoration experts at Best Cleaning and Disaster Restoration Services, Our crews treat your indoor air following a fire to make it a safe and comfortable living environment once again.
For more than three decades, residents and business owners in Durango, Cortez, Pagosa Springs, Farmington, Kirtland, and other cities throughout the Four Corners Region have benefitted from our talented technicians at Best CDRS. Our crews provide the best indoor air quality improvement services following a fire. With our extensive years of experience in this field, you can be sure that your home will be completely restored to its original condition. For more information, dial 970-235-9151 or click here to schedule services today at your property in Farmington, Durango, & Pagosa Springs.
Issues to Address to Improve Indoor Air Quality After a Fire
Best CDRS technicians will quickly improve your indoor air quality after a fire by addressing and correcting issues that include:
Smoke & Soot Contamination: Fires release harmful smoke & soot particles that cause severe health problems when inhaled.
Health Concerns: Carcinogens from fire degrade your indoor air, posing health risks that include respiratory conditions.
Lingering Odors: Fire leaves lasting indoor odors that lower your indoor air quality.
Preventing Secondary Damage: Smoke and soot can corrode indoor surfaces, causing additional property damage.
Restoring Usability: Improved indoor air quality restores habitability, enabling occupants to resume normal daily activities.
Enhancing Property Value: Boosting your indoor air quality after a fire will enhance your property value.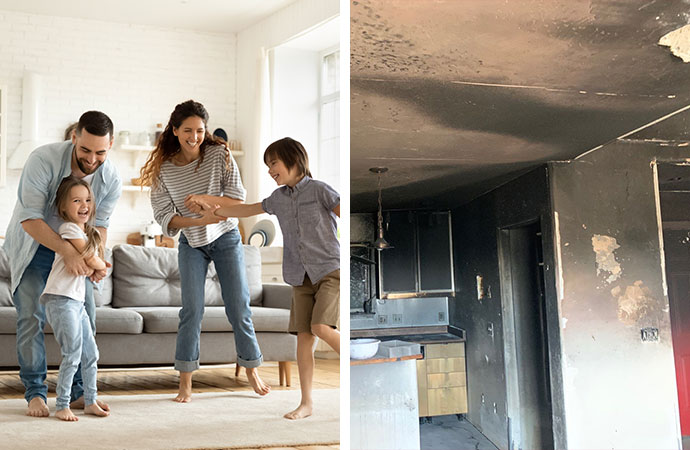 Choose Us to Enhance Your Indoor Air Quality Following a Fire in Durango, Cortez, & Farmington
In the wake of a fire, Best CDRS technicians have the equipment, experience, and expertise needed to restore a healthy indoor environment to your fire-damaged property with cleaning and ventilation services that will expedite your successful post-fire recovery. Let us boost your indoor air quality by providing smoke & soot restoration, residential fire restoration, smoke odor removal, content pack-out, and more. To schedule our services, click here. You can also dial 970-235-9151 to get a free estimate and learn more about our services.