Certified Industrial Hygienists in Durango & Farmington
Certified industrial hygienists analyze a workplace, perform tests, and determine if any hazards are causing employee illnesses, stresses, or other discomforts. Whether chemical, environmental, physical, biological, or some other adverse condition, a certified industrial hygienist formulates a plan to eliminate such hazards and help return any workplace to an overall healthy state.
At Best Cleaning & Disaster Restoration Services, we contract with certified industrial hygienists to assess mold, asbestos or other toxic substances, poor indoor air quality, hazardous working conditions or exposures that require such evaluations. We'll identify contaminants and ensure businesses adhere to OSHA laws to make workplaces safer.
Best CDRS will perform mold or asbestos remediation and cleanup, and certified industrial hygienists will ultimately determine if workplace conditions are acceptable after a post-inspection. To have a certified industrial hygienist inspect your property in Durango, Farmington, Cortez, Pagosa Springs, Lewis and across our Four Corners service area, call 970-235-9151 or contact us online to learn more and arrange a consultation. Ask about our free estimates.
Why Best CDRS For Certified Industrial Hygienists?
The importance of contracting a certified industrial hygienist to determine a workplace hazard can't be understated. An analysis by Best CDRS could help you with the following:
Offset medical expenses: Industrial hygiene impacts insurance premium costs, injury claim volume, and employer healthcare options. Decreasing risks and improving working conditions with high standards benefits long-term.
Boost productivity: Cleanliness and safety improve physical and mental health. More energized, focused employees are more productive and content. Unsafe, unclean workplaces are distracting, anxiety-inducing, and cause weariness and tension.
Reduce absenteeism: Healthier employees=fewer lost days. Rehab, therapies & specialist visits, disability claims and other medical-related lost time will decrease.
Spend elsewhere: Money saved from workplace injuries and illnesses can strengthen and grow a business.
Professional reputation: Safety, cleanliness and other positive factors in a workplace environment attracts quality employees and job-seekers. Improve recruiting.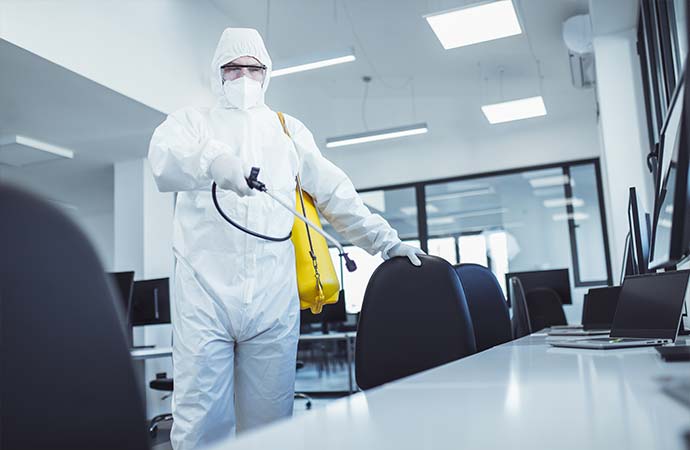 Rely on Best CDRS For Certified Industrial Hygienists For Mold or Asbestos Hazards in 4 Corners
At Best CDRS, we provide superior mold or asbestos inspection, testing and remediation, as well as contracting with certified industrial hygienists. We have helped clients throughout our Four Corners service area in Colorado and New Mexico have cleaner, safer workplaces. We also provide insurance claim and billing assistance. Call us at 970-235-9151 or contact us online to learn more and arrange a consultation.