A/C Unit Drain Overflow Cleanup in Four Corners Region
When condensation builds up in your air conditioning system over time, it might not drain properly. The condensation drain pipe or outflow can become clogged with sediment, limescale from hard water or other foreign matter. If condensed water can't flow out, it eventually causes an A/C unit drain overflow.
This overflow can lead to algae and mold growth inside the drain, increasing indoor humidity, musty odors, and eventually water damage to your home.
Best Cleaning & Disaster Restoration Services, an IICRC-certified, bonded, and insured restoration contractor, specializes in A/C unit drain overflow and other appliance leak cleanups. We perform water extraction, water damage, and structural drying in Arboles, Aztec, Bayfield, Blanco, Bloomfield, Cahone, Chromo, Cortez, Dolores, Dove Creek, and throughout our Four Corners Region service area.
For assistance in Colorado or New Mexico for A/C unit drain overflow cleanup and repair, call 970-235-9151 or contact us online to arrange a consultation. Ask about free estimates and our 24/7 emergency response service.
Best CDRS Diagnoses These A/C Unit Drain Overflow Issues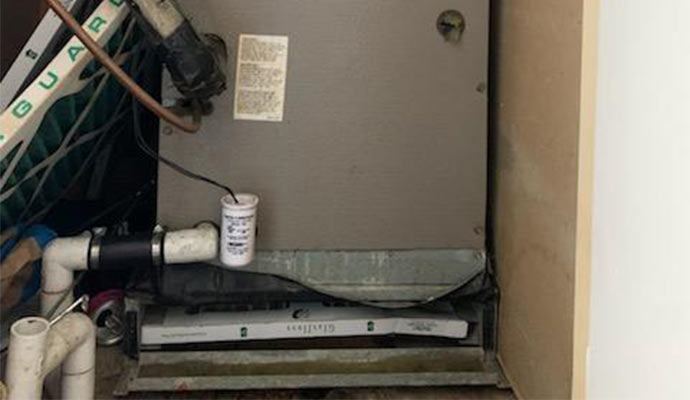 The professionals at Best Cleaning & Disaster Restoration Services will quickly determine what caused your A/C drain unit overflow before any damage cleanup or restoration begins. A/C drain unit overflow issues include:
Clogged drain line: A clogged condensate drain line is the most common cause of water leaking from your A/C into your home. If the drain line gets clogged with dust, dirt, sludge, or mold, that water backs up into your home.
Mold, algae, etc.: When an air conditioner's drain pan is full of water, the most common culprit is a clogged drainpipe. Inside the refrigerant coils and pipes is a breeding ground for algae, mold, and the like. Over time, algae and mold can clog the A/C drain pipe and cause water to build up and leak into the drain pan.
Cracked or corroded drain line, leaks: A/C unit drain overflow can also originate from a cracked or corroded condensate drain pan. The drain line can form cracks or holes due to stress, accidental impact, or age. Clogs caused by debris or mold can also cause leaks through an overflowing condensate drain pan.
A/C Drain Unit Overflows Can Damage HVAC Systems in Cortez, CO
Water from an an A/C drain unit overflow or blockage can overflow into your attic or HVAC closet, wreaking havoc on your system and forcing it to shut down, delay water flow, or causing water damage.
If the drain pipe from your A/C unit overflows, humidity levels in your home can rise to levels that encourage mold, mildew or algae growth. These microorganisms can contaminate your indoor air quality cause respiratory and other health hazards. Your A/C components can be damaged, as well as your A/C condensate drain unit clogged.