Board-Up Service in Durango, Farmington, & Cortez
Board-up services are helpful for homes or offices that need to be restored after a damaging event like a storm, flood, or fire. By boarding up the property, additional damage from other sources is stopped. Because disasters can strike suddenly and without warning, Best CDRS has crews standing by to provide emergency board-up services to protect your property while restoration work is ongoing in Durango, Farmington, Aztec, Cortez, Pagosa Springs, and other cities we serve throughout the Four Corners Region.
When you need someone to quickly board up your damaged property to prevent further damage, our IICRC-certified crews at Best CDRS are uniquely qualified. For more than 25 years, we have provided the best available board-up services for damaged properties within our service area in New Mexico & Colorado. We are a family-owned & operated company that understands the restoration-related needs and requirements for properties within our region. When you need our help, call us at 970-235-9151 or you can click here to schedule board-up services at your property today.
Why Do You Need Board-Up Services by Best CDRS?
There are many reasons to secure professional board-up services by Best CDRS in the wake of property damage to your home or office. We can eliminate risks that include:
Risk of more damage: Holes in the roof and walls can let in harmful elements, such as water, wind, and intruders. This could significantly increase your current problems and, also, increase your repair bill.

Risk of loss of homeowner's insurance coverage: Following a disaster, many insurance companies require board-up services in order for you to qualify for insurance coverage for your home's damages. The sooner you board up your property after sustaining damage, the more likely it is to prevent more damage.

Risk of extra property loss: Without board-up protection, thieves or vandals could easily access your property and remove or damage anything. They could gain access to private information or steal your content.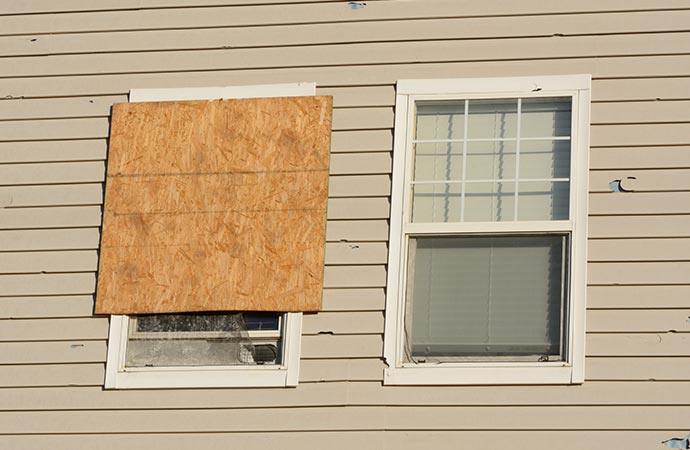 Count on Best CDRS for Superior Board-Up Services in Durango, Pagosa Springs, Farmington, & Cortez
We have highly-trained and certified technicians to properly board up your disaster-damaged property at your home or office in the Four Corners Region. We also provide wide-ranging disaster restoration services that include disaster cleanup and disaster insurance claim assistance. To learn more about our company and our restoration services, call us at 970-235-9151 or click this link to make an appointment for services today at your property in Durango, Cortez, or Pagosa Springs.