Flooded Basement Cleanup in Durango, Farmington & Cortez
Whether you have a finished or unfinished basement, water intrusion can cause severe damage. Best Cleaning & Disaster Restoration Services can help if you've had a flood from storms, a slow leak that has led to mold infestation, a clogged sump pump, burst pipe, plumbing break or overflow, or other factors
Whenever your home is hit by a flood, the first thing you must do once the disaster has passed is water extraction. Depending on the severity, this usually means mopping out the excess and fan-drying the remaining soggy surfaces. Often, these methods might be able to save your flooded basement from the negative effects of water damage, but not always.
Best CDRS is Flooded Basement Solution
Since your basement is located at the lowest point of your home, very rarely does it have an immediate route for water to escape. Because of this, the liquid can remain in the area and create the following issues:
Leaking walls and floors
Mold and mildew
Wood rotting
Foul smelling odors
Structural weakening of your basement
Ignoring the initial signs is not a wise choice. Before you know it, the basement ceiling can no longer handle the weight of the rooms above and you may face foundation issues or rotting joints.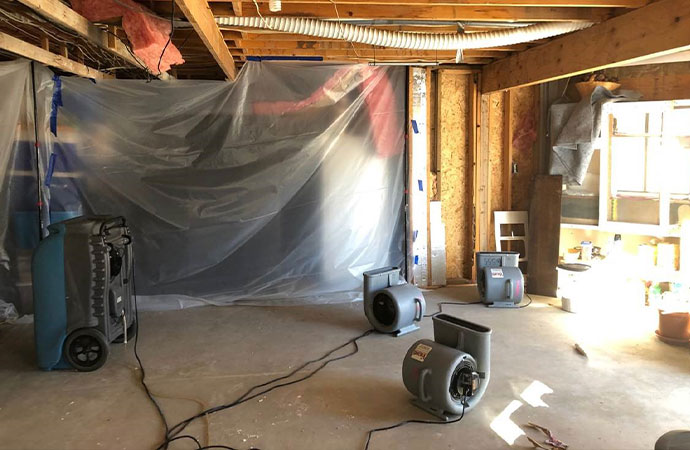 Call Best For Flooded Basements in Durango, Cortez & Farmington
At Best Cleaning & Disaster Restoration Services, we have been drying flooded basements for over 25 years. We understand the headaches water damage can cause and how it can severely harm your property and health. Our professional technicians have the equipment and expertise to thoroughly dry your flooded basement and help you with any necessary water restoration work. 
Call us at 970-235-9151 or visit our contact page to request an appointment. We also provide various water damage restoration services, as well as mold remediation, and biohazard cleanup.