Blood Cleanup Service in Durango, Farmington, Cortez & Pagosa Springs
The scene of traumatic events such as industrial accidents, suicides, and homicides is, oftentimes, riddled with blood. Blood spill is not only emotionally and mentally scarring, but also a health hazard that needs to be professionally cleaned. When blood spill isn't handled properly, dangerous bloodborne pathogens can transmit illnesses and diseases.
If your property has become a scene of a traumatic situation, the first thing you have to do is to secure the area so no one comes in contact with the substance. Next, contact Best Cleaning & Disaster Restoration, Inc. immediately. Our fully licensed and certified cleaning experts will ensure that your environment is properly disinfected and sanitized.
Best CDRS Is Ready to Help
Blood is known to be difficult to clean. Because of the various proteins found in blood, it easily binds to almost anything once it's been exposed to the air. Normal cleaning techniques and chemicals aren't strong enough to eliminate 100% of the blood stains. To completely remove blood spills from the scene, state-of-the-art cleaning equipment and methods are required.
Best Cleaning & Disaster Restoration, Inc. has over 25 years of experience cleaning up biohazard scenes, materials, and substances. We have the necessary blood cleaning tools and chemicals to restore your property back to safe and healthy conditions. We know that there's only a limited time before blood becomes a permanent stain on your walls, flooring, and contents. That's why our fully licensed and certified technicians will waste no time searching and cleaning up every trace of blood in the affected environment. Once we've eliminated the blood spills, we'll disinfect and sanitize the surrounding areas, so no bloodborne pathogens and viruses remain.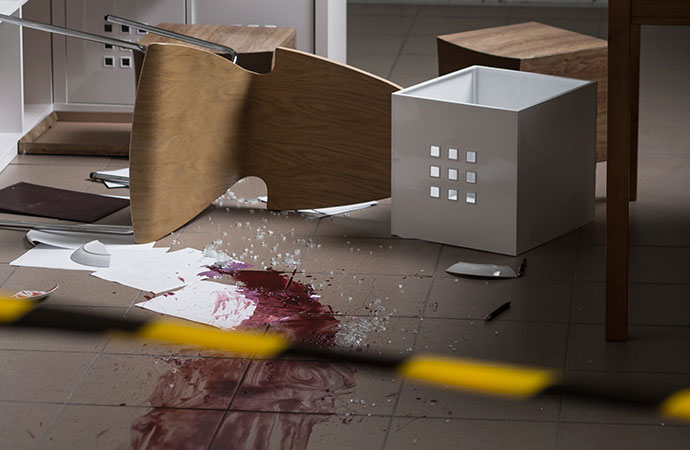 Contact Us for Blood Cleanup Service in Durango, Farmington, Cortez & Pagosa Springs
When you need our blood cleanup expertise, just give us a call at 970-235-9151 . Our emergency services are on-call 24/7 and are available to properties in Durango, Farmington, Cortez, and Pagosa Springs.