The Advantages of Residential Duct Cleaning
Coming home after a long day is a wonderful feeling. Your house is where you can relax and, eventually, get a good night's sleep. To make your home as inviting as possible, you want to keep your living spaces tidy and spotless.
Maintaining this type of environment can be a challenge, especially if your indoor air quality is poor. Even for non-smokers, indoor air contains more pollutants and allergens than outdoor air. If the air you breathe isn't clean, you'll have a higher risk of contracting respiratory ailments.
Fortunately, there are several things you can do to improve the quality of your indoor air. One of the best solutions is to have your duct system regularly cleaned.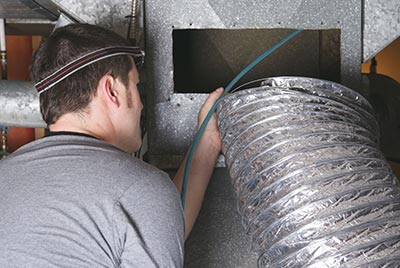 Why Clean The Air Ducts?
Because your ductwork is designed to distribute warm and cool air throughout your home, it gets dirty easily. When air exits the duct system, it leaves dust, dirt, and other particulate matter behind. Over time, these irritants build up and airborne bacteria settle in the air ducts. By having your ductwork cleaned regularly, you can prevent this problem from occurring and keep your indoor air pure.
Other Benefits of a Clean Duct System
Improved HVAC performance. When there are no obstructions inside your duct system, your HVAC will become more efficient in keeping your indoor climate pleasant. In addition, the life cycles of your heating and cooling units will be extended because they won't have to work as hard to generate conditioned air.
Increased energy savings. Once the ductwork's pipes are clear, air can flow freely throughout your property. As a result, your HVAC system will use less energy to do its job, lowering your utility bills.
Easier clean-up in your home. Air that's coming from a clean ductwork will not carry dust and debris to all corners of your home. Because of this, you'll have an easier time cleaning your home on a regular basis.
Looking for a company that can clean your duct system? Contact Best Cleaning & Disaster Restoration Services today. We offer reliable duct cleaning services to both residential and commercial property owners in Cortez, Durango, Farmington, and Pagosa Springs, Colorado. We also provide mold remediation, as well as moisture control solutions, to help keep your home clean and secure.
When you need our services, give us a call at 970-235-9151 and we will be ready to assist you.