The 4 Classifications of Water Damage
When faced with a common plumbing problem, you'd normally handle it using simple repair techniques. However, you can't rely on this method each time you experience a water disaster. There are situations where the damage is too great that you need to call in the professionals for help.
To determine what type of water-related scenario you're in, here are the 4 classes of water damage you can encounter:
Class 1: Least Amount of Damage
Class 1 is the easiest to handle because it only covers a small area. The damage created here is quite minimal, and the affected items have only absorbed very little water. The cost of repairs is also inexpensive, making class 1 the best case scenario.
Class 2: Whole Room Damage
Class 2 is identifiable if an entire room is affected and the water's evaporation rate is fast. Here, wood grained materials, as well as your flooring, carpets, and furniture are severely wet. Repairing class 2 water damage is also trickier and could cost more than a class 1 since the location is much larger.
Class 3: Whole Property Damage
Class 3 water damage can severely affect your entire property. It also has the fastest evaporation rate. Most disasters of this type can stem from a burst pipe or water coming from a collapsed ceiling.
It's crucial that class 3 is addressed immediately and professionally restored. If not, you're at risk of putting your health and safety in dangerous consequences that involve secondary water damage like mold and mildew.
Class 4: Total Loss
If you experience a class 4, it means that you've encountered a severe flood. This classification affects the fundamental structure of any building, ultimately wrecking your entire property in the process. The level of moisture is also alarming and needs to be dried through special methods. For this class, it's best to call your local restoration company to clean up and repair the damage.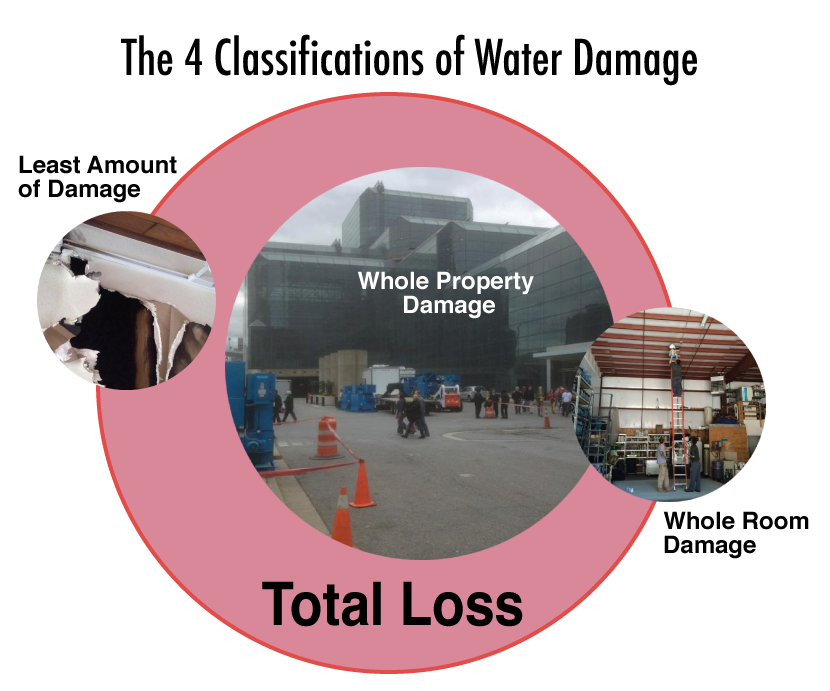 Familiarizing yourself with the 4 classifications of water damage helps you assess any water-related catastrophe better. If the situation is manageable, you can handle it on your own. If the result is overwhelming, then contact Best Cleaning & Disaster Restoration instead.
We have the experience, equipment, and manpower to deal with all types of water disasters and damage. Just give us a call at 970-235-9151 and our staff will take immediate action. Our emergency services are available 24/7. We help properties in Durango, Farmington, Cortez, and Pagosa Springs.