Why You Must Start Fire Damage Restoration Immediately
When a fire hits your home, the damage can be devastating. For the best possible restoration efforts, you must address the situation ASAP.
The longer you avoid making needed repairs after a fire, the greater the chance of doing even more damage. Prioritizing the repairs and restoration of your property as soon as possible after a fire will allow you to get home back to its original condition sooner.
What Happens When Fire Damage Restoration is Delayed?
Leaving your home unrepaired for any amount of time after fire damages can result in structural issues as well as the decay of your home. You might also find yourself facing other issues like water damage, mold growth, and even theft.
When firefighters extinguish the blaze, you need to contact your insurance company right away so they can send assess the damages and start your claim. You should also call Best Cleaning & Disaster Restoration Services for help, including board-up and tarping service that protect your property from further damage.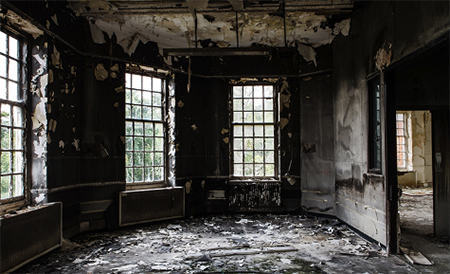 Count on Best CDRS to Restore Your Home
In addition to securing your property from possible thieves & vandals while protecting it from inclement weather, our proven professionals will also:
Try to save as many of your belongings as possible – Any item in your home covered by soot or damaged by smoke can be salvaged by our restoration specialists using our proven soot & smoke damage restoration process. Soot and smoke damage requires special cleaning materials and methods to remove, which is why professionals are required.
Help with documentation for insurance claims – Before you can file a legitimate claim for fire damage with your insurance provider, you will need to follow a number of important steps. Your restoration specialist will know exactly what needs to be done when it comes to insurance claims filing. This includes proper documentation of the damage with lists, photos, and videos.
Work quickly and efficiently – To get your home fixed as soon and as efficiently as possible, trusting a restoration company is your best bet. An industry leader like Best CDRS knows exactly what to do to get your home back to its original condition ASAP.
In Durango, Farmington, Cortez, and Pagosa Springs, when you need the help of a restoration company, the one to call is Best Cleaning & Disaster Restoration Services. With years of experience in helping people get their homes back to the way they were before disaster struck, you can be sure that your home will be as good as new in no time. To get our help, all you need to do is to contact us at 970-235-9151 and we will send someone over to assist you.