Four Reasons to Have Crawl Space Encapsulation Today
Although the crawl space is rarely visited and gets very little attention, it's one of the most important areas of your home. Its primary purpose is to provide easy access to the utilities that run beneath your property, but there are several things you can do to enhance the crawl space's functionality.
One of the most popular improvements is crawl space encapsulation, which involves adding a heavy-duty water vapor barrier to the crawl space that stops moisture from entering your home. Here are four reasons why you should have your crawl space encapsulated today:
1. Keeps Moisture Problems at Bay
Your crawl space is highly susceptible to water and moisture damage. Whenever it rains or floods, water stagnates in the crawl space and makes it easier for mold and other waterborne contaminants to develop on your property.
With encapsulation, however, you can avoid these problems. The encapsulation system closes off the crawl space from the external environment and is covered with a vapor barrier to keep moisture from penetrating the area.
2. Prevents Pests and Insects from Invading Your Crawl Space
A crawl space's dark and damp environment makes the perfect shelter for rodents, insects, and other pests. These pests can be problematic to the health and safety of your property. By encapsulating your crawl space, you'll be able to prevent pests and parasites from infesting your home.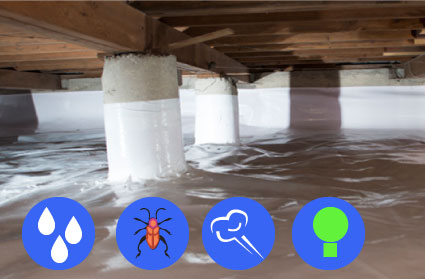 3. Improves Indoor Air Quality
About 60% of the air you breathe comes from the crawl space. It is crucial that it remains in good condition. Having your crawl space encapsulated will prevent mold growth and pest invasion, boosting your indoor air quality.
4. Increases Your Energy Savings
Aside from protecting your crawl space from water and mold damage, encapsulation will increase your energy savings. The encapsulation material will insulate your home and prevent untreated air from the crawl space from entering your home.