Disaster Cleanup Services in Durango, Farmington, Cortez & Pagosa Springs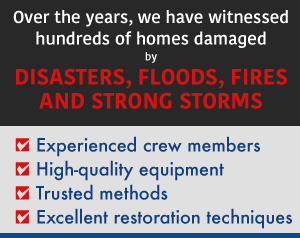 Get help NOW!
---
One of the biggest inconveniences water or fire-related disasters create is the aftermath. Once the flood has cleared or the remaining flames have been put out, property owners are left with all sorts of damage – resulting in a huge mess. Cleaning up the debris and excess moisture is tough, especially when there's a heap of broken glass and burnt surfaces. In this situation, it's best to turn to let the experts handle the cleanup.
If your property has experienced a disaster recently and needs to be professionally cleaned, contact Best Cleaning & Disaster Restoration Services, Inc. immediately. We offer various disaster restoration services that address the damages caused by water, fires, and storms.
Let BEST CDRS Deal with the Mess
There's a certain level of difficulty that comes with cleaning a damaged or devastated property. Not only are you faced with cleaning the immediate mess created by the disaster, but you also have to consider the possible secondary damage that could arise. Moisture and stagnating water that are left by flooding could become the perfect habitat for mold and allergens, and lingering smoke and soot can cause several respiratory ailments. Without the necessary equipment and know-how, your property will still feel the effects of the disaster.
To prevent these problems from happening, Best Cleaning & Disaster Restoration Services, Inc. will address the damage by performing the following services:
Best Cleaning & Disaster Restoration has been servicing the community for over 20 years, so you can count on us to take care of your property. Our company has the equipment and manpower to get your property back to its pre-damaged state, fast. Contact us at 970-235-9151 whenever you need our assistance. Our emergency services are on-call 24/7 and are available to properties in Durango, Farmington, Cortez and Pagosa Springs.