Structural Restoration for Fire Damage in Durango
When a fire occurs, it produces extreme heat and flames that can impact different parts of a building's structure, such as walls, ceilings, floors, beams, and supports. If a fire causes substantial harm to load-bearing walls, columns, or support beams, it can trigger the collapse of the structure. In such situations, it becomes crucial to undertake structural restoration services to reconstruct and strengthen the areas damaged by the fire.
Great news! Best Cleaning and Disaster Restoration Services is a bonded, licensed, & certified restoration company with more than 25 years of expertise in restoring fire-damaged structures. Our advanced technology enables us to effectively restore fire-damaged walls, ceilings, floors, and more to their original state. For more information, call 970-235-9151 or click here to schedule a service in Durango, Cortez, Farmington, Pagosa Spring, Kirtland, and other surrounding cities we serve throughout the Four Corners Region.
What Signs Suggest That I Need Structural Restoration?
Our certified technicians at Best Cleaning and Disaster Restoration Services are experts in structural damage restoration caused by fire. When any of these issues surface following a fire, you will need structural restoration services:
Partial or complete collapse: Damage to load-bearing beams & walls causes a structural collapse that needs restoration.
Weakening of structural components: Fire weakens structural elements, compromising building stability and safety.
Heat damage: High temperatures weaken structural materials like steel and concrete, causing loss of structural integrity.
Smoke & water damage: Damage from water used to fight fires weakens structural materials & causes wood rot.
Electrical & mechanical systems damage: Fires damage electrical wiring and mechanical systems, requiring restoration.
Code compliance & safety regulations: Building codes require a structural assessment to meet safe occupancy standards.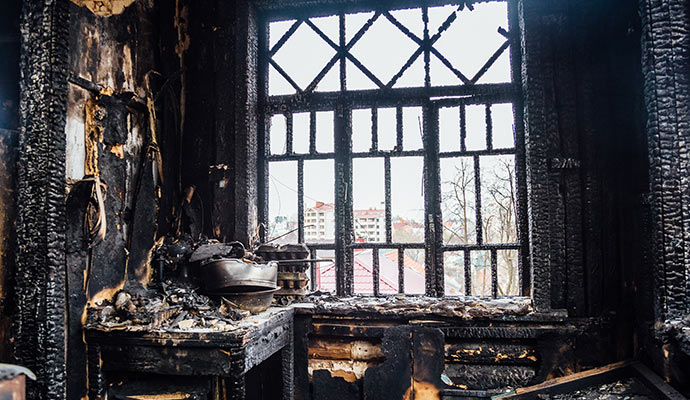 Choose Us for The Best Structural Damage Restoration Services in Durango, Pagosa Springs, & Farmington
At Best Cleaning and Disaster Restoration Services, we take pride in providing industry-standard structural damage restoration services in the wake of a fire. Our aim is to return a feeling of normalcy to your life and your property following a tragedy. Our wide range of fire damage restoration services includes smoke & soot restoration, smoke odor removal, residential fire restoration, content pack-out, and more. Just dial 970-235-9151 for our assistance or click here to schedule restoration services today at your property in the Four Corners Region.