Restoration & Cleaning Services in Telluride, Colorado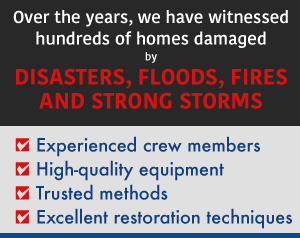 Disasters can strike at any time and can affect anyone in their path. When you find yourself in a fire, flood, storm, or major accident, you can devastate your home. Your property will need restoration from the fire damage, water damage and storm damage. In Telluride, Colorado when these things happen, there is one company to call for help: Best Cleaning & Disaster Restoration Services.
We are a company that has been around for years and has been serving the residents of Telluride whenever they need us. Whether there is a need for restoration work on a residential or commercial property, Best CDRS is the company people rely on. We take the stress and worry out of getting things back in order since we know exactly what needs to be done. We have the equipment, the certified professionals, and the drive to help in order to get things back to their original condition.
Restoration Services by Best CDRS in Telluride
Whether your home or your business is in need of restoration work, the company to trust with this is Best CDRS. We have a long list of restoration services that can take care of all your repair and restoration needs and these include the following:
• Fire Damage Restoration – When a fire hits your property, the damage it inflicts will include more just areas touched by the flames. You'll also face smoke and soot damages.
• Water Damage Restoration – Water damage can quietly creep on you without you knowing. It can come from a leaking appliance, a cracked water pipe, backed up sewers, and a clogged toilet.
• Mold Remediation – When you notice mold in your home, you must get rid of it ASAP. In addition to causing structural damage to your home, it can trigger respiratory ailments, allergic reactions, headaches & more in humans.
• Storm Damage Restoration – Broken windows, debris on your front lawn, damaged siding, and loose shingles are just some of the things you will experience when a storm hits.
All of these problems we can easily and effectively take care of the moment you call us for help. In addition to these services, we also offer Biohazard Cleanup, Commercial Restoration, and Mudslide Restoration.
Best CDRS Provides More than Restoration Services in Telluride
While we do specialize in restoration work, we also offer other services that you will want to consider. We are also a professional cleaning company and we can help get your home and office clean for you. Our cleaning services include:
• Carpet Cleaning
• Area Rug Cleaning
• Tile & Grout Cleaning
We also can also clean your upholstery, RV, and vehicle for you as part of our specialty cleaning services.
Contact Best CDRS for the Best Restoration & Cleaning Services in Telluride
With IICRC certification, you can rest assured that we know exactly what we are doing and will give you the kind of clean and restoration work you need when you need it. We have the trained personnel, the state-of-the-art equipment, and the advanced methods you need to get exactly what you deserve when it comes to restoring and cleaning your property.
To get the help you need in Telluride, all you have to do is to call Best CDRS at 970-235-9151 to schedule a free assessment and estimate. You can also visit our Contact Us page and fill out our form there to get the information you need about our services.
Best CDRS provides top-quality fire and water damage restoration services in Telluride, Colorado and throughout San Miguel county. With a population of about 2,494 there are many people who will be affected by fire and water damage. We service the following zipcode: 81435 as well as the following neighborhoods: Ophir / Sawpit and Town Center. You won't find a better provider for restoration services in Telluride!
Blogs related to Telluride