Professional Restoration & Cleaning Company in Durango, CO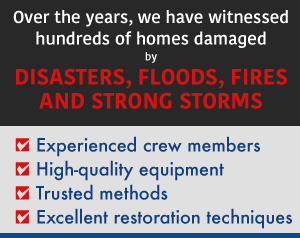 No matter how hard you try to prevent disasters from happening, they are inevitable from time to time. When you face the need for fire damage restoration, water damage restoration or storm damage restoration caused by unexpected disasters, the feeling of loss can be overwhelming.
The best way to address such devastation is to mitigate the damage and to contact a restoration specialist for effective and speedy assistance. When you need a restoration company in Durango, CO, the company to call is BEST Cleaning & Disaster Restoration Services, Inc.
Our team of trained and certified experts will help you get your life back on track by assisting with the restoration and repair of your damaged property. Whether you need help with fire damage restoration, water damage restoration, storm damage restoration, mold remediation or something else, we can help. With our years of experience and state-of-the-art restoration and cleaning equipment, your home or business will soon be back to normal.
Restoration Services We Offer in Durango
There is a reason the word "Best" is in our name - it represents our status among restoration companies in Durango, Colorado and Four Corners Region. When it comes to fire damage restoration, water damage restoration and storm damage restoration, BEST Cleaning & Disaster Restoration Services, Inc. is considered the foremost authority in restoration and cleaning services throughout the region. Our restoration services include:
We also offer insurance claims assistance to those who are unsure how to proceed and for those who want stress-free insurance claims filing for water damage or fire damage.
We Also Offer Professional Cleaning Services in Durango
Part of what we offer our customers in Durango, Colorado and the surrounding areas are our premier cleaning services including:
Call BEST Cleaning & Disaster Restoration Services, Inc. for Professional Cleaning & Restoration
BEST Cleaning & Disaster Restoration Services, Inc. is an IICRC-certified company, which guarantees that you get the best service and assistance possible when it comes to your disaster restoration and cleaning needs. We utilize state-of-the-art technology and have trained teams to help you achieve the best clean and the best storm damage, fire damage or water damage restoration for your homes and businesses.
Whether you require professional cleaning or are in need of expert disaster restoration services, don't hesitate to contact us at 970-235-9151 today.
Resources To Help During Renovations in Durango, CO
Dealing with home renovations in Durango can be frustrating and time-consuming, especially when you have to relocate temporarily while the work is being done. While we work on renovating your home in Durango, here are some resources you can use to help you get by during the transition.
Hotels You Can Find in Durango, CO
When you do not have a place to go while having your home renovated, either by choice or following some sort of accident or storm-related damages in the Durango area, you can visit the following hotels nearby for temporary lodging:
Comfort Inn & Suites-Durango
455 S. Camino Del Rio
Durango, CO 81303
970-259-7900
Best Western Mountain Shadows
3255 Main Ave
Durango, CO 81301
970-247-5200
Public Wifi Places You Can Go in Durango, CO
We understand that when you are displaced, you still need to get work done and have access to online services. Here is a public Wi-Fi place in Durango that we have found:
Durango Public Library
1900 E. 3rd Ave
Durango, CO 81301
970-375-3380
Pet Boarding in Durango, CO
While displaced from home, pet owners will need a place to board their pets during working hours. Here are some places to board pets in Durango, CO:
Durango Pet Resort
35 Design Center Rd
Durango, CO 81301
970-259-7387
Healthy Hounds and Fat Cats
21738 US 160 West
Durango, CO 81303
970-375-9700
Contact BEST Cleaning & Disaster Restoration Services, Inc. for Water or Fire Damage Restoration in Durango, CO
We can help when you need to have your home remodeled or renovated in Durango, CO. Our team will be able to assist you and get you back up to speed ASAP, just contact us today at 970-235-9151 for 24/7 help.
Customer Reviews from Durango
Completed Jobs from Durango
Estimate Requests from Durango
Meg V. on March 25, 2020 11:24:38am
Hello, We have reason to believe that our VFW is in need of a deep clean for this virus. Could you call or email at your earliest convenience? Many Thanks, Meg Vanasse, LTC, VFW Quartermaster
Mercy M. on January 28, 2020 11:37:11am
Water heater leaked into 2 bedrooms and hallway. They have wood floors
JEREMY B. on December 18, 2019 4:12:04pm
I have a puppy that has soiled an upstairs landing and areas in the upstairs bedroom. I am looking for the best remedy as quickly as possible. Thanks
Jack S. on November 7, 2019 9:52:01am
Hi there. The address above is not my own, but my mother's house. She passed away last Friday and my understanding is she had kidney failure resulting in a lot of blood. I'm going to look today, but hoping to get some estimate to clean up. I'm just navigating the process and honestly can't afford much... but figure I would at least ask and figure out the process. I have to fly back and forth to LA today and tomorrow to get my birth certificate for starting paperwork... but will be available on Monday if I could arrange for someone to take a look and get an estimate. I could also send pictures from after when I visit today. Thanks. Jack
Jennifer T. on October 5, 2019 10:00:02am
Clean house, repair and replace carpets after rental.
. on July 5, 2019 3:37:19pm
Looking for carpet cleaning
Tim T. on July 2, 2019 11:22:00am
Interested in scheduling a carpet cleaning
Julie Popp 9. on June 27, 2019 10:59:22am
We are currently updating our Sponsorship Opportunity contact list for Durango School District 9-R. We do not have an e-mail address for you and hope that you will send to us so that we can keep you in the loop. We do not share this information with any entity outside of 9-R. Thank you.
. on May 16, 2019 3:20:58pm
The homeowner is needing crawl space encapsulation and sump pump installation
Anne R. on May 6, 2019 6:46:29am
Crawl space has water under the vapor barrier... need help with removal and future mitigation. Thanks a bunch!