Professional Restoration & Cleaning Company in Durango, CO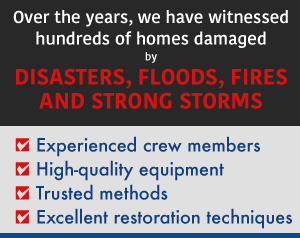 Disasters happen all the time and since you can't plan ahead for a disaster, it can be a difficult process to bounce back from. Once the damage has been done, you are faced with a mountain of clutter that ranges from the structural composition of your home to important and personal belongings. Dealing with this kind of dilemma all on your own is not a suitable choice.
At Best Cleaning and Disaster Restoration Services, we have a team of experts ready to help you get back on track and to reassure you that your property will be back to shape in no time. Over the years, we have witnessed hundreds of homes that have been totaled by disasters such as floods, fires, and strong storms and our experienced crew members have remedied the problems by using only high-quality equipment, trusted methods, and excellent restoration techniques, and now you can experience the same services.
Restoration Services We Offer in Durango
There is a reason we are called the Best, and our company proves this fact by offering various restoration jobs in Durango, Colorado and the Four Corners Region. No matter what type of disaster you experience, we have the solution. Here are just some of the services we provide:
BEST CDRS Professional Cleaning Services
We are not just a restoration company though, we also offer professional cleaning services to our customers in the Four Corners Region.
Contact BEST CDRS for a Free Estimate for Restoration and Cleaning in Durango, CO
At BEST CDRS, we are an IICRC certified company and we use state-of-the-art technology in order for you to receive top results. Whether cleaning your home or taking care of an emergency, we understand that our community expects high quality at a decent price. Our well-trained and highly experienced technicians are proud of their work and will always treat you and your belongings with the respect you deserve. We take every measure to guarantee your satisfaction with each job.
If you need professional cleaning or restoration services in Durango or surrounding areas, please contact us at 970-235-9151 today!
Resources To Help During Renovations in Durango, CO
Dealing with home renovations in Durango can be frustrating and time-consuming, especially when you have to relocate temporarily while the work is being done. While we work on renovating your home in Durango, here are some resources you can use to help you get by during the transition.
Hotels You Can Find in Durango, CO
When you do not have a place to go while having your home renovated, either by choice or following some sort of accident or storm-related damages in the Durango area, you can visit the following hotels nearby for temporary lodging:
Comfort Inn & Suites-Durango
455 S. Camino Del Rio
Durango, CO 81303
970-259-7900
Best Western Mountain Shadows
3255 Main Ave
Durango, CO 81301
970-247-5200
Public Wifi Places You Can Go in Durango, CO
We understand that when you are displaced, you still need to get work done and have access to online services. Here is a public Wi-Fi place in Durango that we have found:
Durango Public Library
1900 E. 3rd Ave
Durango, CO 81301
970-375-3380
Pet Boarding in Durango, CO
While displaced from home, pet owners will need a place to board their pets during working hours. Here are some places to board pets in Durango, CO:
Durango Pet Resort
35 Design Center Rd
Durango, CO 81301
970-259-7387
Healthy Hounds and Fat Cats
21738 US 160 West
Durango, CO 81303
970-375-9700
Contact Us for Your Remodeling & Renovation Needs in Durango, CO
We can help when you need to have your home remodeled or renovated in Durango, CO. Our team will be able to assist you and get you back up to speed ASAP, just contact us today at 970-235-9151 for 24/7 help.
Customer Reviews from Durango
Completed Jobs from Durango
Estimate Requests from Durango
Mcnaughton W. on November 27, 2018 11:48:12am
The customer wants to get a vapor barrier installed in their crawl space
Tonya L. on November 26, 2018 8:01:56pm
Hello. Could i please get an estimate on having the carpet in our townhouse cleaned? It would include 3 rooms, 1 hallway, and 2 sets of stairs, about 900 sq ft. (house will be empty, so no furniture to go around) Also, i would like pricing concerning having the carpet stretched (there are 2 bumps in the carpet, 1 in a closet area, and one between a hall and bedroom). Could you please send the estimate to the email above? Thank you. Tonya
. on October 12, 2018 10:15:13pm
Caller is in a rental that has a sump pump failure. The renter is out of town.
Fisher P. on October 11, 2018 10:21:57am
Needing 2 office chairs cleaned
. on October 10, 2018 2:40:12pm
The customer is interested in mold inspection/remediation.
Payment M. on October 4, 2018 5:25:54pm
interested in air duct cleaning
Broo C. on October 1, 2018 10:48:51am
The customer is having their furnace replaced and is wanting to have their ducts cleaned.
Pietrowski J. on September 29, 2018 9:56:47am
Needing an appointment for next week for crawl space/sump pump update that was installed by then years ago.
Const A. on August 31, 2018 11:30:46am
The client is needing asbestos removal.
. on August 29, 2018 10:44:52am
Caller is needing carpet cleaning for a large building.