Cleaning and Restoration in Broomfield, CO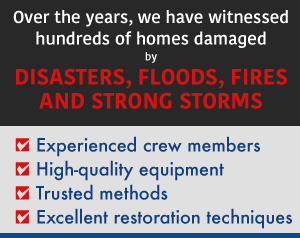 When disasters happen, damage usually occurs. Storms, fires, floods, and major accidents are difficult to bounce back from. But when you have help from a company like Best CDRS, your disaster restoration needs in Broomfield, Colorado will be handled quickly, efficiently and professionally. You won't have to worry about the clutter and damage that is the result of what happened since we are here to help.
We have a team of certified professionals who know what is needed when it comes to restoring a home and business to the way it was. We can alleviate the stress and worry that comes from such events by assuring you we can get things back in order quickly and efficiently. We know just how devastating such events can be, which is why our team works as fast as they could and as best as they can to get your home or your business back to the way it was.
Best CDRS Restoration Services in Broomfield
When you need to have your home or business restored in Broomfield, there is no other company to trust than Best CDRS. Our name says it all and we have the people as well as the equipment that is needed to give you the best restoration and repair services that you need to get back on your feet. The services you can get from us include:
• Fire Damage Restoration – Damage from fires can come not only from the flames but also from the byproducts of such a disaster. Soot and smoke can also bring about a lot of damage to your property. We can take care of all of these for you.
• Water Damage Restoration – Water damage can happen from something as small as a leak in your washer line to something as big as a toilet overflow. We can handle any type of water damage, big or small, and get things back to normal as soon as possible.
• Mold Remediation – There is nothing nice or good about molds. These not only damage the surface that it is on but it also brings with it health hazards such as allergic reactions and respiratory problems.
• Storm Damage Restoration – Storms can wreak havoc not only outside but inside as well when flooding occurs. Windows can break, sidings get damaged, and debris can get littered all over your lawn. We can take care of all of these for you.
We also offer other restoration services such as Disaster Restoration, Biohazard Cleanup, and Commercial Restoration.
More than Just a Restoration Company in Broomfield
Aside from helping residents in Broomfield repair and restore their property after disasters happen, we also offer a long list of professional cleaning services. Our cleaning crew will help keep your home and office as clean as the day you first moved in. Our cleaning services include:
• Carpet Cleaning
• Area Rug Cleaning
• Tile & Grout Cleaning
We also offer specialty cleaning services such as Vehicle and RV Cleaning and Upholstery Cleaning.
Contact Best CDRS for All Your Restoration and Professional Cleaning Needs
As a certified IICRC company, we guarantee that you get exactly what you want and need from us when it comes to cleaning your property and restoring it to the way it was pre-disaster. Our advanced methods of cleaning and restoring, as well as our state-of-the-art equipment, coupled with our trained and certified personnel, will ensure that you get the best clean and restoration service in Broomfield.
To get the help that you need, whether it is professional cleaning or restoration services, you can call us at 970-235-9151 to schedule a free estimate. You can also fill out the form on our Contact Us page and we will get back to you as soon as we are able.