Professional Restoration & Cleaning Company in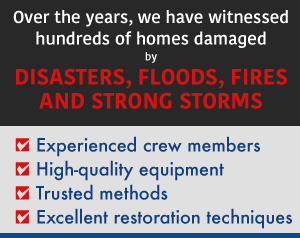 Get help NOW!
---
Disasters happen all the time and since you can't plan ahead for a disaster, it can be a difficult process to bounce back from. Once the damage has been done, you are faced with a mountain of clutter that ranges from the structural composition of your home to important and personal belongings. Dealing with this kind of dilemma all on your own is not a suitable choice.
At BEST Cleaning & Disaster Restoration Services Inc., we have a team of experts ready to help you get back on track and to reassure you that your property will be back to shape in no time. Over the years, we have witnessed hundreds of homes that have been totaled by disasters such as floods, fires, and strong storms and our experienced crew members have remedied the problems by using only high-quality equipment, trusted methods, and excellent restoration techniques, and now you can experience the same services.
Restoration Services Offered
We are not called the best for nothing, and our company proves this fact by offering various restoration jobs in and the Four Corners Region. No matter what type of disaster you experience, we have the solution. Here are just some of the services we provide:
Professional Cleaning Services
We are not just a restoration company though, we also offer professional cleaning services to our customers in the Four Corners Region.
Contact BEST CDRS for Restoration Services in
At BEST CDRS, we are an IICRC certified company and we use state-of-the-art technology in order for you to receive top results. Whether cleaning your home or taking care of an emergency, we understand that our community expects high quality at a decent price. Our well-trained and highly experienced technicians are proud of their work and will always treat you and your belongings with the respect you deserve. We take every measure to guarantee your satisfaction with each job.
If you need professional cleaning or restoration services in or surrounding areas, please contact us at 970-235-9151 today!
Estimate Requests from
Kelsey . on January 27, 2020 10:29:15pm
Do you do mold testing?
Libby C. on December 21, 2019 2:36:30pm
Hi—I'd love to make an appointment to get the ducts cleaned in my house and am wondering how long the wait is to schedule it out? I'm in town, Durango. Thank you!
Todd J. on December 14, 2019 6:49:20pm
Hello, i would like to apply for a job, i have much experience! Thankyou
Chris . on November 25, 2019 4:04:06pm
Can you send me copies of your mold inspection certification please.
Victor S. on November 22, 2019 3:08:30pm
My mother-in-law needs whole mobile home sanitized ..... She was diagnosed with C-DEF and can't shake it... So doctor recommended to have whole house sanitized professionally. Do you guys do that stuff
Ashley B. on October 23, 2019 7:53:08pm
In need of luxury vinyl flooring flooring, tile, and grout work in the bathroom to be cleaned.
Kim R. on October 23, 2019 1:24:35pm
Does your company work on concrete floors? I have a concrete floor that was finished years ago, and I need to have the old remaining finish stripped off and new finish applied. Email is the best way to contact me. Kim
M S. on October 6, 2019 10:00:21pm
Around how much would you charge for cleaning up 6 months worth of dog poop, 1 dog, about an hour of work? Please email me the response. Thanks.
Kim C. on September 18, 2019 12:10:47pm
I have 2 wool area rugs that need cleaning one is 3x5 and one 5x7
Bill P. on September 16, 2019 11:13:04am
Would like to get an estimate from you, buying a place that has some minor fire/smoke damage.